Sorry we are now Sold Out of 5 Frame Nuc's

5 Frame Nuc's of Honey Bee's Available in April


--Start Your Own Hive --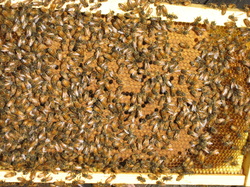 These Nuc's will be available around the second week of April. We will firm up a delivery date as we get closer. You will get 5 frames of brood and bees (as shown in the picture on the left) and a new 2014 queen, all in a convenient "cardboard nuc box" for easy transportation. You simply remove the frames and bees and place in your own equipment when you get home! Queens will be either an Itialian/Carniolan cross or Carniolan! (Depending on availiability from our Queen breeders.) Orders must be placed over the phone.
*All orders are C.O.D. (Cash on Delivery)*.....we do not currently accept credit cards.
*Please note that we will require a non-refundable 10% deposite on orders of 10 or more nucs*

Dale...(509) 999-2252 or Gib....(509) 936-0130
2014 Price - 5 Frame Nuc - $110.00 each.
Extra Queens - $30.00 each.
---
What is a Nuc?
The term "nuc" is short for "nucleus." Compared to established hives, nucleus hives or (nuc's) usually only consist of 5 frames of brood and bees and a queen. (Much smaller than an established hive of bees) Making a nuc is a very common way of building a new hive out of already existing hives. A nuc contains, bees, brood, and a queen. All three are vital to establishing a new and successful hive!
Will a Nuc be More Productive than a Package?
Yes!!!, you will be weeks ahead with a nuc vs. a package, heres why!
Packages - A package will actually dwindle in strength for approximately 24-28 days before new bees begin to hatch allowing the hive to begin growing. When you install a package the queen has to begin from ground zero. It can be as long as 5-8 days after installing the bees before she even begins laying eggs to produce new bees, especially if you are installing the bees in brand new equipment with no drawn comb. The brood then takes 21 days to mature and hatch as new bees. Hive growth will not and simply cannot occur untill new bees are hatching.
Nuc's - A nuc comes with about 3 pounds of bees plus 5 frames of brood that is at all stages of development. New bees will actually be hatching from Day 1!!! With our nuc's there is only about a 5 day window when the queen will not be laying eggs, this is the time between when the nuc is made and when your new queen is released and begins laying. Because of hatching brood your hive will grow much faster. It will be nearly a month ahead of a package! The more bees in your hive when the honey flow starts the better your hive will produce!