We are excited to partner once again with Local Northwest Beekeepers Gib & Lorene Earl of Artesian Honey Company to bring you our 2018 Nuc sale!!!

Our 2018 Nuc Sale Has Now Concluded. Please Check Back For Next Year's Sale After Jan 1st 2019. Thank You For Your Business!
​
​**See Ordering Instructions Below**
*We will accept orders on a "first come, first serve" basis until we are sold out. After we sell out we will create a small "Backup List." Being on the backup list does not guarantee you will receive a Nuc but we will call you if we have a cancellation or any extras.*
Please read the following important information before placing your order!

**When you place your order please specify if you plan to pick up you Nuc's at our Central Washington (Yakima Area) Location or our Eastern Washington (Spokane Area) Location!

**Once you have placed your order we will call you approximately 1 week before Delivery Day to arrange for you to pick up your nuc. You will be scheduled to pickup your nuc on one of our 3 delivery days which are traditionally the first 3 Saturdays in April. Please plan accordingly. We cannot Ship Nuc's through the mail.

**A Non-refundable​ 50% deposit will be required on all orders of 5 or more Nuc's within 2 weeks of the date you place your order. All Nuc sales are C.O.D (cash on delivery) We Do Not accept credit cards.

**We Guarantee that you will receive from us a new Living​ 2018 Mated Queen inside your Nuc. (This Queen is still in a queen cage and must be released before she can begin laying new eggs. You are responsible for releasing the queen from her cage into the nuc). We get all of our queens from Experienced Queen Breeders that we have done business with for many years and are confident in their product. We use the very same queens in our own hives throughout the year. While we typically enjoy a 90-95% success rate at introducing these new Queens We Do Not and Cannot Guarantee that every queen will be accepted and/or become a perfect producer. We do offer replacement queens depending on availability for pickup through April, May and June for $30 ea.
--Start Your Own Hive --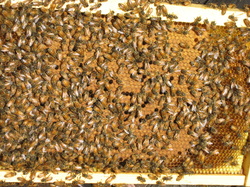 Your Nuc's will be available around the second week of April. We will firm up a delivery date as we get closer. You will get 4 large (deep) frames of brood and bees (as shown in the picture on the left) and a fifth frame of brood and honey with a new 2018 mated queen, all in a convenient "nuc box" for easy transportation. You simply remove the frames and bees and place in your own equipment when you get home! Queens will most likely be a Carniolan/Italian Cross. (Genetics will depend on availability from our Queen breeders.) Orders must be placed over the phone.

To Place an Order: Please Call Lorene Earl at (509) 936-1088
2018 Price - 5 Frame Nuc - $135.00 each.
Extra Queens (Depending on Availiability) - $30.00 each.
---
What is a Nuc?
The term "nuc" is short for "nucleus." Compared to established hives, nucleus hives or (nuc's) usually only consist of 5 frames of brood and bees and a queen. (Much smaller than an established hive of bees) Making a nuc is a very common way of building a new hive out of already existing hives. A nuc contains, bees, brood, and a queen. All three are vital to establishing a new and successful hive!
Will a Nuc be More Productive than a Package?
Yes!!!, you will be weeks ahead with a Nuc vs. a Package, here's why!
Packages - A package will actually dwindle slightly in strength for approximately 24-28 days before new bees begin to hatch allowing the hive to begin growing. When you install a package the queen has to begin from ground zero. It can be as long as 5 days after installing the bees before she even begins laying eggs to produce new bees, especially if you are installing the bees in brand new equipment with no drawn comb. The brood then takes 21 days to mature and hatch as new bees. Hive growth will not and simply cannot occur untill new bees are hatching.
Nuc's - A nuc comes with about 3 pounds of bees plus 5 frames of brood that is at all stages of development. New bees will actually be hatching from Day 1!!! With our nuc's there is only about a 5 day window when the queen will not be laying eggs, this is the time between when the nuc is made and when your new queen is released and begins laying. Because of hatching brood your hive will grow much faster. It will be nearly a month ahead of a package! The more bees in your hive when the honey flow starts the better your hive will produce!